Budget Location Information
Budget Baton Rouge Metro Airport Car Rentals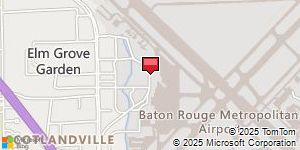 Other Budget Locations Near Baton Rouge Metro Airport
Location Name:
Budget Baton Rouge Metro Airport Car Rental
Address:
9430 Jackie Cochran
Baton Rouge
, LA,
70807
,
United States
Phone Number:
225-355-0312
Hours of Operation:
Sun 9:00 AM - 12:00 PM
Mon-Fri 8:00 AM - 12:00 PM
Sat 9:00 AM - 8:00 PM

Budget Locations Near Baton Rouge
Rather than requiring customers to be 25 to rent, Budget at this location now rents to customers between the ages of 21-24 with a valid credit card and driver's license. At time of rental, we will automatically apply an additional $27-per-day underage surcharge for these drivers. Additionally, the following restrictions also will apply for renters between the ages of 21-24: Renters of luxury cars, mini-vans, 12-passenger vans, specialty cars, full-size SUVs and premium SUVs will not be permitted. Government Minimum Age Policy - Military (FEMA, US Postal Dept., Navy and Army) and Civilian Personnel Minimum age - 18 years (no underage surcharge will apply) with government travel or purchase order Minimum age - 21 years (no underage surcharge will apply) with no government travel or purchase order
At time of rental, driver must present a valid drivers license in the drivers name. All drivers must have a safe driving record. In the U.S., you may be asked to sign a driving record addendum or be subject to a computerized Department of Motor vehicles check. Based upon such search, Budget reserves the right to deny a rental opportunity.
This location does accept bank debit cards with the MasterCard or Visa logo at the time of rental if you are at least 25 years of age. You will be subject to a credit check to determine creditworthiness. At the time of pickup, a debit card cannot be used for the required hold if renting Convertibles or from the Street Fleet selections. Budget reserves the right, in its sole discretion, to seek a Debit Card authorization hold in excess of the estimated rental charges. We will place a hold on your account of $200 plus the estimated rental charges. THESE FUNDS WILL NOT BE AVAILABLE FOR YOUR USE. Upon returning the vehicle, Budget will process a release of the unused portion of the hold subject to your Bank's procedures. The hold may take up to 2 weeks to be released by your bank. If you fail to return the vehicle as agreed, Budget will obtain additional authorizations from your account to cover the rental charges. Budget is not responsible for any returned checks or over-drafts based on this policy. Positive identification in addition to your driver's license may be required. In the United States, Debit, Cash or Check cards can be used at the end for payment of rental charges. Note: Prepaid Debit/Gift cards are not acceptable methods of credit identification to pick up a car at any location. One of the above mentioned cards must be presented. Prepaid Debit/Gift cards are accepted at time of return only.
Optional services, special equipment and one way fees are subject to tax in certain locations. This tax is not reflected in the Estimated Total. Frequent Flyer surcharges may be applied at time of rental. Extensions or late returns result in additional charges.
The car must be returned with a full tank of gas or there will be a charge for refueling. Most locations offer a prepaid gas option which you can accept at the rental location. If the car is driven less than 75 miles there is a $13.99 refueling fee unless a gas receipt is presented at the time of return.
*GENERAL DIRECTIONS* Airport Terminal Instructions COUNTER: Located one level below the baggage claim area. CARS: Outside of terminal, approximately 300 feet. RETURNS: Same as pickup. AFTER-HOURS RETURNS: Available. Park & lock vehicle. Place keys & completed contract in the drop box located on the rental counter. Office will mail or fax a copy of the closed out contract within 48 hours of return. OPTIMUM SERVICE Airport Terminal Instructions OPTIMUM MEMBERS When you arrive, go to the Budget counter in the baggage claim area. The manager or key person will have your contract ready and personally escort you to your vehicle. Valet Return: If offered, you will be told about our service as you are escorted to your car.
USA Vehicles at this location can be driven throughout the continental US with no restrictions. Based on availability; One-way rentals may be allowed to a some US cities. Canada Allowed if the following conditions are met: Renters may drive US vehicles into Canada, with no restrictions on Provinces. Rental counter must be notified at the time of rental that you plan to drive the vehicle into Canada so we may issue a Canadian Non-Resident Insurance Card (this card is provided at no cost and will be required to cross the border). Based on availability; One-way rentals may be allowed to a few Canadian cities. Mexico Vehicles at this location are not allowed to travel into Mexico. One-way rentals are also not permitted.
Budget accepts most major credit cards as credit identification at the time of rental. Accepted credit card list: Budget Charge Card, Budget International, American Express, Carte Blanche, Diner's Club, Diner's Club International, Discover, JCB, MasterCard, Optima, Peterson, Howell and Heather (PHH) and Visa. Some locations may not accept each of the referenced cards.